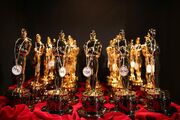 This is the history source page of all the ceremonies from years (and decades) past. Please feel free to use this site whenever. It covers up every ceremony ever documented.
Subcategories
This category has the following 16 subcategories, out of 16 total.
Pages in category "Oscar History"
This category contains only the following page.